I've said before that I love mums, but in the past the mums must not have loved me. I've bought them, planted them, and enjoyed their lovely blooms at a time of year when there isn't a great lot of color in the garden. Then spring comes, and they don't. I remember a few autumns ago when I bought a lot of the Prophet Series mums (by Yoder Brothers) and lost every single one of them.

Ouch.

I transferred my affections to asters, and while I do love them, they aren't mums. But I'm not a quitter, and I usually get what I want.

And I. Want. Mums.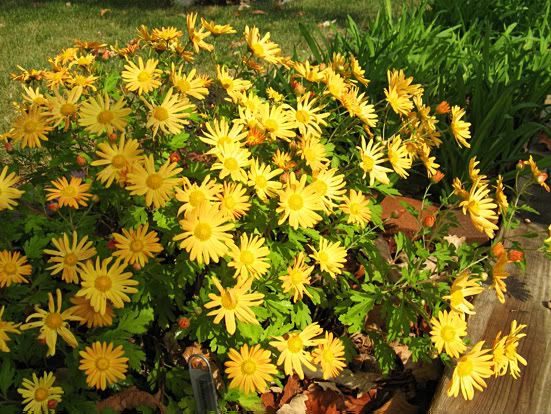 'Bolero'

So I did some research. I can be taught, and I just knew there was some way to grow beautiful mums for more than one season. I have seen many people do it without even trying, so there must be some way for me to do it, too.

I will say that I've had great success with certain types of mums. Those that are labeled as Dendranthema work well for me. They're usually more of a daisy-type mum and that's okay with me, because I like daisies very much and with them coming in all sorts of colors, that's just all the better. 'Clara Curtis' and 'Bolero' are two that fall into that category. And they spread quickly.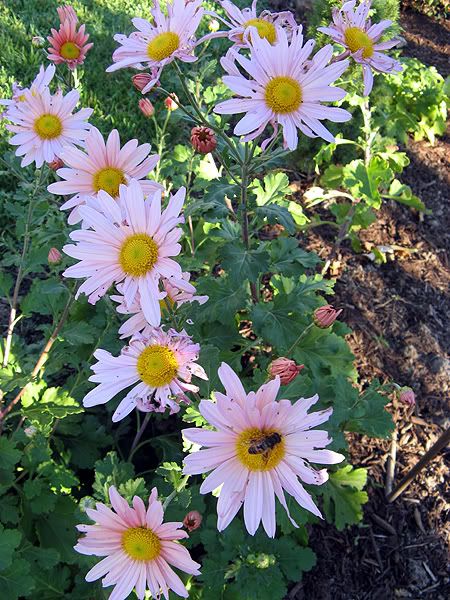 'Clara Curtis'

Those Prophet Series mums are supposed to be fairly hardy, so why weren't they hardy for me? What was I doing wrong? I longed for their wide variation in colors and their volumes of blooms.
One year I saw some Belgian mums for sale. What makes these different or special? I was in a Meijer store and overheard a woman asking the help about them. They mentioned that they were supposed to be a little hardier. So of course, I came home and checked them out online.
Hardiness notwithstanding, these mums are known for their number of blooms. A cushion-type, they've got hundreds on one plant, though they're smaller in size. The stems are stronger, too. How many times have you broken a stem while planting mums? Belgian mums can take more abuse. I read too, that they can bloom in the spring as well. Trim off the spent blooms and then they'll bloom beautifully in the fall. No pinching back until the 4th of July for these either.
I bought one. All I really cared about was the hardiness

.
It didn't survive.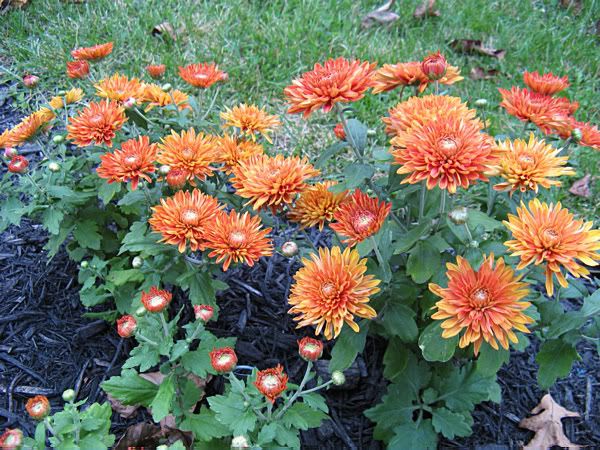 'High Regards'
But what about the mums I already have and the ones that I long to have? How to get them not to succumb to winter's icy grasp?

Besides making sure the mums I'm buying are indeed hardy garden mums and not the florist mums (which are not hardy here in Zone 5), here's the thing: They need good drainage. Yep. That's it. It's the number one reason for mum failure. They like rich soil, but they'll grow okay in poor dirt. You can fertilize them for more blooms, but they'll bloom very well without it. They like sun or partial shade, but they'll bloom some in full shade, too. But wet feet? They hate that.

This can be a bit tricky, I'm thinking, since they're relatively shallow-rooted. They like it moist right at the surface, but they don't like staying in a cold, wet hole during the winter. So last fall, I made sure I planted the mums my mom passed on to me in soil that I knew would drain well. Every single one of them returned this spring.

A couple more tips: Don't prune them back. The dead stems and foliage will help protect them during the winter. Select and plant them in the spring. This will give them a better chance to become established.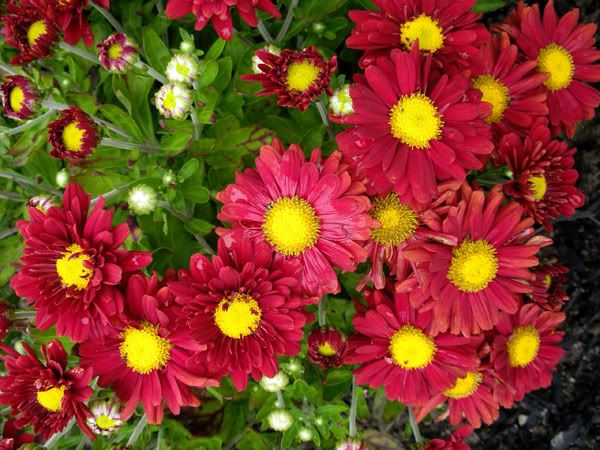 'Red Dandy'